Sealed Nozzle Heaters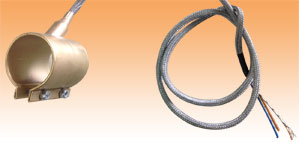 Features »

PIROMAX nozzle heaters are a top-quality product, result or our unique high-technology. They are completely against external agents such as melted plastics.
PIROMAX are a rugged product that resists very well to wearing and shocks. Their high watt-density per square centimeter allows a fast and safe reaching of the required working temperature
During manufacturing, the heaters are submitted to extremely high pressure that ensures high insulation, excellent thermal exchange, lack of internal voids, perfectly smooth contact area for an optimum and uniform heat transfer to every part of the nozzle.
The inner profile is perfectly round, providing a perfect coupling with the nozzle. Size of the connecting cap is minimal, giving extremely limited overall dimensions.
Power connection is performed by a metal braided cable, standard length 1 m, with two nickel power leads plus a galvanized-copper ground lead.
Technical data »
Brass tubular sheath (also available in stainless steel, for corrosive materials such as PVC).
Standard power density, brass 4.5 W/cm2, stainless steel 7 W/cm2
Tear-resistant connection of power cable.
Dielectric strength: 1500 V.

Perfect roundness.
Extremely small connecting cap.