Ceramic & Mica Band-Nozzle heaters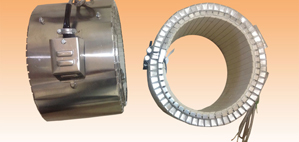 Application »

Basically this type of heater is applied in plastic injection moulding machines of various makes.
It is also used for heating dies, plattern pipe sections, nozzles etc.
Construction »
Sheathing - rust resistant steel, brass or stainless steel are used with clamps & screws to affix the heater rigidly on cylinder. It is also available in two halves with asbestos heat insulater cover. Heating elements - Nichrome ribbin wire wound mica strip are made suitable to the sizes insulated with mica blocks. The element is wound uniformly to eliminate hot spot. For temperature upto 600°C, the heater is also available with helix coiled element insulated with grooved refractories.
Standard sizes and capacities »
Inner dia. - 25 mm to 300 mm
Width - 25 mm to 300 mm
Volts - 230 / 250
Watts - 80 to 3000